So I mentioned in my last post how I'd recently come to own three, yes THREE, new black dresses. I thought I'd show you the second one today, which is much more at the casual end of the occasion spectrum. Now, I'm big on clothing quests and the ultimate black dress is pretty much permanently at the top of my most wanted list. No matter how many times I think I've accomplished this task, I just can't stop looking, the search goes on and on and on...
HOWEVER, I genuinely feel as though this time I've managed to find a near-perfect casual little black dress: a simple tunic with 3/4 length sleeves, it's a great length on me, is ultra-versatile AND the shift style gives an appreciative nod to the incoming 60's trend. Holy grail? Not far off, that's for sure! The day of its first outing was absolutely freezing, so I layered it over a shirt for warmth and threw on my new collar adornment thing (official description) that I'd picked up on a whim and was keen to try out. It made me feel a little bit country, a little bit (60's) rock'n'roll. So yeah, I was pretty pleased with the whole ensemble, check it out:
Did I just...? No. Phew.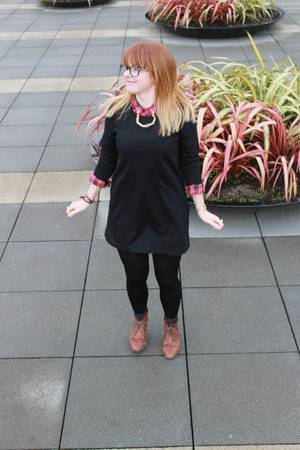 Dress. You really got me going.
You got me so I don't know what I'm doing.
Collar Chain Thing: Primark (similar
here
)
Bracelet: H&M (old, similar
here
)